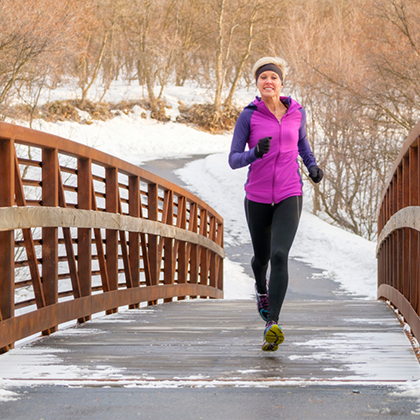 Frequently Asked Questions
We know that 100 activities is a huge accomplishment and you may have some questions along the way. Please review our FAQ here to help answer some of the most common inquiries. If you still have questions after reading through our page, we are here to help. Please email us at: info@towomensruns.com
When can I complete the Women Set the Pace/100 Challenge?
You can start logging activities on January 1, 2022. If you registered after January 1st, you can start tracking your activities the day you registered. You have until April 30, 2022 to complete the Women Set the Pace/100 Challenge.
Where can I complete the Women Set the Pace/100 Challenge?
The WSP/100 Challenge is virtual and can be completed from any location you choose, on the day that you choose, at your own pace. You can complete activities inside, outside, at the gym, etc.
What type of activities do I need to complete?
Any activity that gets you physically active counts! Run, walk, hike, ride, ski, skate, weight training, yoga… the list goes on and on!
When does registration close?
Online registration closes on January 31, 2022 at 11:59 pm or when the event is SOLD OUT. Registration is capped to 1,000 participants.
Is there a cap on the number of registrations?
Yes, this event is capped at 1,000 participants.
How much is registration?
The registration fee for the WSP/100 is $60.00 CDN. HST and processing fees are not included. We do not offer refunds, deferrals or transfers for the WSP/100.
What is included in the registration fee?
All participants receive the WSP/100 Pace Kit that includes a pair of custom endur WSP/100 socks, training log, notebook, custom pencil, sticker set and Women Set the Pace keychain. Registration includes FREE domestic shipping.
Participants also receive a $25 ASICS e-gift card*, a 90-day free trial to RunKeeper Go, and more surprises and bonus offers from sponsors.
WSP/100 participants also gain first access to exclusive WSP/100 merchandise.
How can I confirm my registration in the Challenge?
To confirm if you are registered, please click here. If you do not see your registration confirmation email from Race Roster in your inbox, please check your SPAM/Junk folder.
How do I keep track of my activities?
You can track your activities by recording them in your WSP/100 training logbook or online with Race Roster.
The online Activity Tracking Page can be accessed by clicking here or via your Participant Dashboard. You will have to login to your Race Roster account to view and add activities. Once on the Activity Tracking Page, simply click "add activity" and enter your data.
Do my activities have to be a certain duration or intensity to count?
Since this is your Challenge, you determine the duration per activity. We suggest that each activity be at least 15 minutes in duration.
Intensity level is the same as duration, in that it is totally up to you. As long as you feel like you are doing something active and it's making you feel better, then that is the priority!
When does my Pace Kit ship?
Pace Kits will be shipped on a weekly basis beginning January 2, 2022. Please allow 1-2 weeks for your Pace Kit to arrive within Canada. Please note that all Pace Kits are sent via Canada Post regular letter mail.
What if my Pace Kit does not arrive during the provided time frame?
Do not panic! Delivery of your Pace Kit is dependent upon Canada Post's delivery schedule and may be delayed. These delays are beyond our control and we ask that you please be patient. Canada Post is unable to guarantee delivery times. Unfortunately, we cannot track Pace Kits sent in regular letter mail.
Can't wait and you really want to get your Pace Kit quickly and want to be able to track where it is?
That's easy! Just choose the expedited shipping with tracking option when you register for the Challenge.
What size socks should I select?
The socks fit true to size. The S/M fits a women's size 5-9 shoe (or men's 4-7 shoe).
M/L fits a women's size 10-13 shoe (or men's 8-12 shoe).
Do I have to purchase merchandise at registration?
No, not at all. Official merchandise items can be purchased at any time through our online store here.
When will I get my merchandise purchases?
Merchandise items that are purchased at time of registration are sent with your Pace Kit. Merchandise items purchased in our store are shipped every 7-10 days from your initial purchase date. If you want expedited shipping with tracking within Canada, please select this option at the bottom of the merchandise page.
Is the merchandise refundable?
Sorry, but we are not able to provide refunds on merchandise purchased.
What if I do not live in Canada? Can I still participate?
Yes, you can! However, in order to have your Pace Kit shipped appropriately, please select either US or International shipping when registering.
If you purchase merchandise at the time of registration, we will ship the items together and you only need to purchase US or International shipping once.
If you later decide to purchase any merchandise through the store, you will have to purchase US or International shipping for these products.
Can men participate?
Yes, absolutely! Everyone is welcome to participate.
Can kids participate?
For sure! All kids aged 6 years and over can participate as long as they are in a safe environment and supervised by an adult.
Do I have to fundraise?
No, not at all. However, since those in need do need our help more than ever, we would like to encourage you to support our charitable partner, POGO.
What if I don't finish 100 activities by April 30, 2022?
The online tracking portal closes at midnight on April 30, 2022. After that time, you will be unable to upload your results online. However, you can continue to track your progress with your WSP/100 logbook and keep on challenging yourself to complete your 100 activities.
What is the best way to share my Challenge on social media?
There are plenty of ways to share on social media – Instagram, Facebook, Twitter – it's your choice. You can use any or all the following hashtags to engage with others in our community:
#WSP100
#womensetthepace
#setthepace
#towomens_runs
#womenruntoronto
Shop exclusive WSP/100 Merchandise.

The Women Set the Pace/100 Challenge is presented by the Toronto Women's Run Series, one of the most popular women's race series in the country. We are Toronto based and committed to supporting other women owned and operated small businesses.