Cory Freedman
Founder of the Toronto Women's Run Series and MAX VO2 Event Management Inc.
With two decades of experience in community-based event management, Cory has contributed a unique blend of strategic and execution skills leading to the success of some of the country's most well-known and dynamic events.
Cory has played a pivotal and instrumental roles in such notable events as: Sporting Life 10k, Team Diabetes Canada, the YMCA's Corporate Team Challenge, Scotiabank Toronto Waterfront Marathon and Canada's premier breast cancer participation event, CIBC Run for the Cure, among others. Cory is also a board member of the Canadian Endurance Sports Alliance.
From high level strategic planning to hands-on water station set up, Cory has done it all. While Director of Events for the Canadian Breast Cancer Foundation, she guided its signature awareness and fundraising event, the annual CIBC Run for the Cure. In April 2007, she launched MAX VO2 Management Inc. The company (www.maxvo2inc.com) specializes in event management and execution, and to date has provided leadership, guidance and service to such organizations as: Sporting Life Corporation, Canada Running Series, YMCA of Greater Toronto, Families of Spinal Muscular Atrophy Canada, the Centre for Addiction and Mental Health (CAMH) and the Parkinson Society Canada.
For many years, Cory envisioned the creation of a Women's running series in Toronto: races for women by women. After many lengthy runs brainstorming with other committed "chick runners", the concept of the Toronto Women's Run Series was finally born in 2009 – the first Toronto based race series where any woman, regardless of experience or talent, can come set the pace and participate in races where a woman will be first across the finish line! Since 2009, the Toronto Women's Run series has grown to include three events: the signature event, the half marathon/5k as well as a 10k/5k and a 8k/5k. All races occur in the verdant Sunnybrook Park and all consistently "sell out". Women are setting the pace all season long at the Toronto Women's Run series.
Cory has a penchant for wearing shorts and t-shirts as much as possible – and year-round! That leads her to incorporate her work and personal experiences into her lifestyle. She is a three-time Ironman Triathlon finisher, including the World Triathlon Championships in Hawaii, and has also completed more than a dozen marathons, multiple adventure races and mountain bike events at home and abroad. Click here to reach Cory.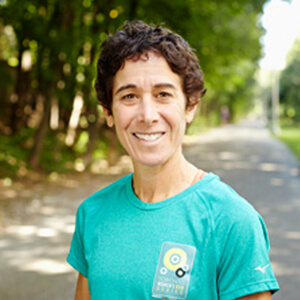 Lisa Peirce
Registration Director
Lisa is an athletics enthusiast who has always enjoyed a healthful, active lifestyle. From a young age the principles of good nutrition and physical activity have always been paramount in her daily life. The sports she first fell in love with are the ones she still loves today. On land running cross country and track and field events and on the court playing volleyball. Her most recent adventures find her in the gym donning a pair of boxing gloves, on the water stand up paddle boarding and on the bench coaching youth volleyball.
Her first introduction to organized road races was at the Toronto Women's Run Series 10k/5k event in August of 2009. It was like nothing she had ever experienced and empowered her to pursue additional running goals. Since then she has participated in several events across the GTA at every distance from 5k to the half marathon.
Lisa's love of running, sport and helping people succeed brought her to volunteer with the Toronto Women's Run Series in 2013 and she has since joined our team as Kit Pick-up Manager for the Toronto Women's Run Series, Sporting Life 10k and Rebecca Run for SMA. She is methodical and organized and ensures every runner receives what they need prior to and on race day. Whether it's simple words of encouragement or time-tested answers to alleviate pre-race jitters, she can always be found behind the bins of bibs with a kind, knowing smile.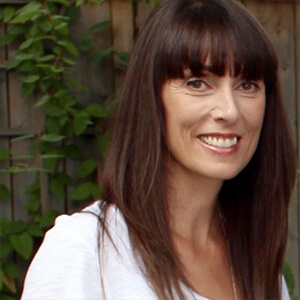 Melanie Edwards
Volunteer Director
Melanie first heard about the idea for a women's run series while running with Cory Freedman along Toronto's Beltline one Sunday morning in 2008, and has been the Toronto Women's Run Series' Volunteer Manager since the first race, the Women's Half/5K, in May of 2009.
Since then, Melanie has recruited and managed the volunteers for the Toronto Women's Run Series, the Sporting Life 10K and the Rebecca Run for SMA, as well as several other smaller events. Melanie's goal has always been to ensure that every volunteer position is filled at every race, and to ensure that the volunteer experience is a rewarding one for those who give up their time so generously (and often painfully early in the morning!). As a result, most volunteers return year after year to the Toronto Women's Run Series.
Melanie is an avid runner and has run several marathons, ultramarathons and trail races. In addition, she has been the marathon coach at the Yonge St Running Room for the past seven years.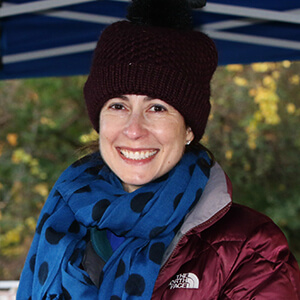 Kathryn Handford
Logistics and Procurement Director
Kathryn came to the world of events through her love of organization, planning and sports. Beginning in the sports world and then branching into charitable organizations and the corporate world has given her an overwhelming amount of event experience encompassing logistics, marketing, sponsorships, planning and execution.
Her first event experience was as the Ontario Technical Judging Chair for trampoline, which determined her career path. This journey took her to university sports, into the not-for-profit industry and then conferences, galas and tradeshows in the publishing world. The full circle has brought her back into the sports field now working with MAX VO2 Management Inc.
Kathryn is an avid runner and triathlete and has completed nine marathons and six Ironman triathlons.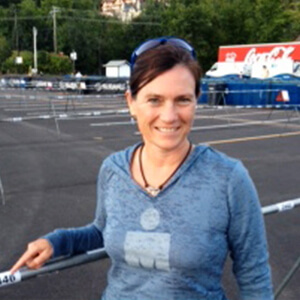 Trish Krause
Brand and Communications Strategist
Trish Krause has been involved with the Toronto Women's Run Series since its inception, providing guidance and support on branding, marketing and communications issues.
As a former journalist and corporate executive who walked the edge of burn-out and flirted with chronic poor health, she is now a certified holistic nutritionist and the founder and CEO of Bite out of Life Nutrition & Lifestyle Coaching, a nutrition coaching and wellness education company that caters to busy professional women seeking practical and simple strategies to feel better, look better, and perform better.
In addition to working one-on-one with clients, Trish brings the science and theory of good nutrition to life by teaching private hands-on culinary workshops and creating made-to-order workplace wellness programs that enhance employee productivity and wellbeing.
An avid recreational runner who did not discover the joy of spandex and sweat until her 40s, Trish passionately believes that no matter what your age or stage of life, you can find connection and camaraderie in this community.
When she is not loping along the city trails with her running pals, she spends time in various culinary pursuits at her Prince Edward County farmhouse with her partner and their adopted greyhound (who might make an excellent running partner if only he was not retired!) Click here to contact Trish. Michael Brennan
Race Logistics Director
Michael's inspiration to start running came in 1980, the year that Terry Fox ran his Marathon of Hope and Michael's mother was diagnosed with cancer. Running became a great stress reliever and a way to honor his mom and Terry.
Since then Michael has run 55 marathons (39 were run under three hours), including 13 Boston Marathons, plus hundreds of shorter races, ultramarathons, the 1995 Canadian Ironman Triathlon in Penticton, BC and the 1999 Ironman in Lake Placid, New York.
In 1995 he co-created Marathon Dynamics Inc., a company which still provides coaching and consulting to individuals and organizations committed to running. During his seven years there he co-instructed and motivated over 4000 runners in the GTA through motivating running clinics and personal coaching.
In recent years Michael has been involved in all aspects of management of some of the GTA's largest and best-managed running races (like the Canada Running Series): the Scotiabank Toronto Waterfront Marathon & Half, Sporting Life 10k, Harry's Spring Run-Off 8k & 5k, Nissan Toronto 10-Miler, ZooRun 10k & 5k and the Mississauga Marathon & Half.
He was race director for two years of the five-race 5 Peaks Trail Running Series, of the Great Lakes Challenge 5k (former Baycrest Challenge) and of numerous 'corporate' races. He has assisted as a volunteer at dozens of races including the Terry Fox Run, Mad Dog Scramble Trail Run, Bay Street Rat Race, Barrie Triathlon, Chicago Shamrock Shuffle 8k and Chicago Marathon.
Michael brings a wealth of running and race organizing experience to the Toronto Women's Run Series and even though outnumbered by females on the organizing team, can hold his own in contributing to potluck planning meetings.